Welcome to New Hampshire
Let a RE/MAX Presidential real estate professional introduce you to the neighborhood!
We love the area and the lifestyle it offers all of us and we look forward to sharing our knowledge of the area with you.
Click on the towns on our Property Search Page to access further town information and make sure to visit our Trusted Resources Page for businesses who we have had experience in working with and trust.
New Hampshire . . . The White Mountain State
One of the New England states of the North East United States. It is bordered by Massachusetts, Vermont, with the Connecticut R. forming the boundary, the Canadian province of Quebec, and Maine and a short strip of the Atlantic Ocean.
Area: 8,9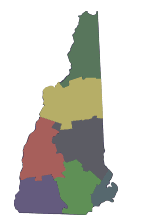 68 sq mi (23,227 sq km)
Population: (2008) 1,315,809
Capital: Concord
Largest City: Manchester
Nickname: Granite State
Motto: Live Free or Die
State Bird: Purple Finch
State Flower: Purple Lilac
State Tree: White Birch
Year round tourism is the state's leading industry. Many visitors come to enjoy the state's beaches, mountains, and lakes. The largest lake, Winnipesaukee, is dotted with 274 inhabitable islands, while along the Atlantic shore 18 mi (29 km) of curving beaches (many state owned) attract vacationers. Of the rugged Isles of Shoals off the coast, three belong to New Hampshire. Originally fishing colonies, they are now used largely as summer residences.
Winter in New Hampshire
In the winter skiers flock northward and the state has responded to the increasing popularity of winter sports by greatly expanding its facilities. When the snows melt, skiers are replaced by hikers, rafters and climbers. Folk crafts such as wood carving, weaving and pottery making have been revived to meet the tourist market.
New Hampshire has 142 state parks and forests, and the White Mountains National Forest, which extends into Maine, has c.724,000 acres (293,000 hectares) in New Hampshire. The state's scenic beauty and serenity have long inspired writers and artists. Hawthorne, Whittier and Longfellow summered in New Hampshire. Augustus Saint-Gaudens sculpted many of his finest works at the artist's colony at Cornish, and the MacDowell Colony at Peterborough is a summer haven for musicians, artists and writers.
The state is most intimately connected with the works of Robert Frost; Frost himself once said that there was not one of his poems "that hadn't something in it of New Hampshire."